國內
-信用卡(VISA、Mastercard、JCB)、Samsung Pay、Google Pay 、超商條碼 / 2.8% 手續費
-ATM轉帳 / 台灣PAY 免手續費 (請在下單六小時內完成匯款)
-店面自取+付款 / 免手續費 ( 請在三日內完成交易)
-超商取貨付款(7-11 OR 全家) / 免手續費 *請參考下面圖示說明
-LINE PAY / 3% 手續費
***請注意!!
超商取貨付款未領:
1.選擇超商取貨付款者,如七日內未到該超商領取並付款,會造成我們損失運費、金物流平台服務費用、與人工處理費。
2.商品從收件人超商門市退回原寄件門市時,我們會以手機、EMAIL或任何可聯絡方式通知應賠償的費用,如這段期間未回應或已讀不回,我們將採取法律途經解決。
3.中華民國刑法"第 355 條 意圖損害他人,以詐術使本人或第三人為財產上之處分,致生財產上之損害者,處三年以下有期徒刑、拘役或五百元以下罰金。"如有必要時,也將提出民事賠償。
---
Foreigners live in Taiwan
-"Cash On Delivery Only" for 7-11 or FamilyMart (we recomend)
*very important to write the TW mobile number with 10 digits Ex: 09xxxxxxxx .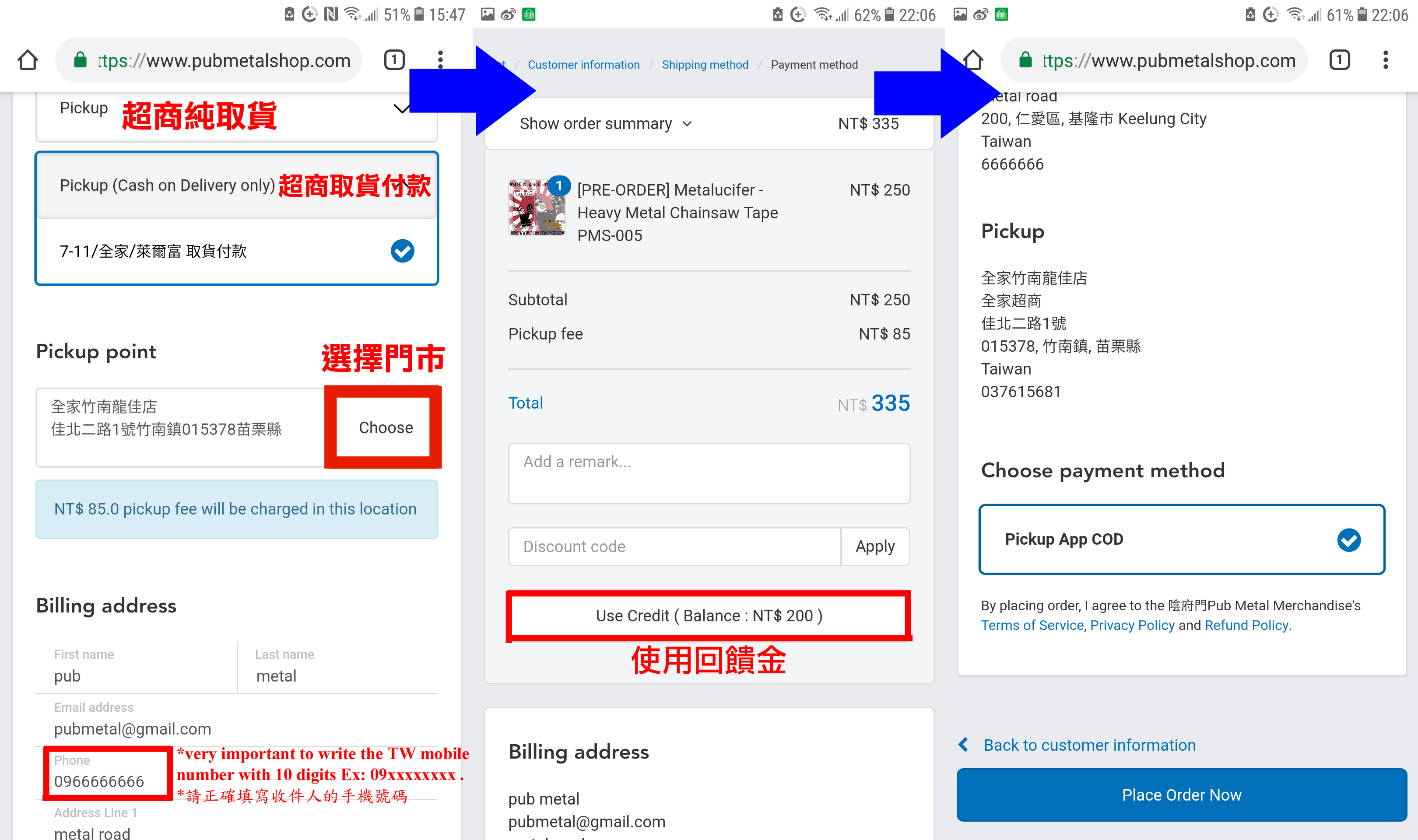 ---
International customer
-Paypal / +fee 5.5%
-VISA、Mastercard、JCB、Union Pay(銀聯卡)、Samsung Pay、Google Pay / +fee 2.8%
*Orders will be cancelled if payment is not received within 6 hours.