Country :Brazil
Genre : Thrash Metal/Crossover
Release date : June 6, 2021
Version desc . : MC Limited to 100 hand numberesd copies
Catalog # : PMS-015
Under License From Tulio (D.F.C.) ©℗ 2021
Side-project of members from Violator, D.F.C., Terror Revolucionário and friends.Their debut album "Possessed in the Circle Pit"(2008) will be first time on cassette format with 1 unreleased bonus track Limited edition to 100 hand numbered copies. +Free Button Badge and woven patch during the pre-order
巴西鞭金/Crossover 樂團Possuído Pelo Cão (簡稱:P.P.C) ,由Violator、D.F.C.、Terror Revolucionário團員一起組成的編外計劃樂團。目前唯一的專輯"Possessed In The Circle Pit" (2008) 首次以錄音帶格式發行,並多加收一首未曾發行過的歌曲"Anarco-Money-Cops",全球限量手寫編號100卷。
---
Tracklist :
SIDE THRASH (11:09)
1.A Marcha Do Cão (The March Of D.O.G.) (1:32)
2.Ugly On The Inside Too (1:08)
3.Air Mail Surgery (1:43)
4.The Catholic Beast (1:03)
5.Possuido Pelo Cão (D.F.C. Cover) (0:42)
6.Demo(n)cracy?(3:19)
7.Too Fast To Die (1:42)
8.Anarco-Money-Cops 2012* (Unreleased bonus track) (2:19)

*Recorded and mixed on 01/05/2012 at Orbis Studio - Braslia, Df Brazil

SIDE CORE (11:57)
9.Toxic Possession (2:35)
10.Anarco-Cops (1:06)
11.Semen Churches (1:08)
12.Blame Satan (1:27)
13.Grey World (Attitude Adjustment Cover) 1:30
14.Mosh Jocks (0:49)
15.Possessed In The Circle Pit (3:22)


---
T shirt. 100% cotton. Textile: Gildan Softstyle T. (Asian Size)
*please note your size during the checkout
採用吉爾登牌Gildan Softstyle素棉Tee (版型偏亞版)
*請在結帳時留下您需要的尺寸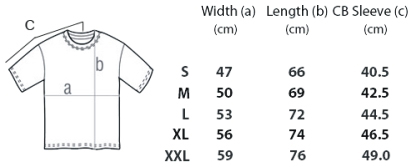 ---
NOTE : This is Pre-order section,all order will send out from June 6, 2021
International order : ↓↓↓
Before order find a list of countries to which the Taiwan Post is currently able to handle shipments.


注意 : 本商品為預購商品,所以訂單我們將從2021年6月6日陸續寄出