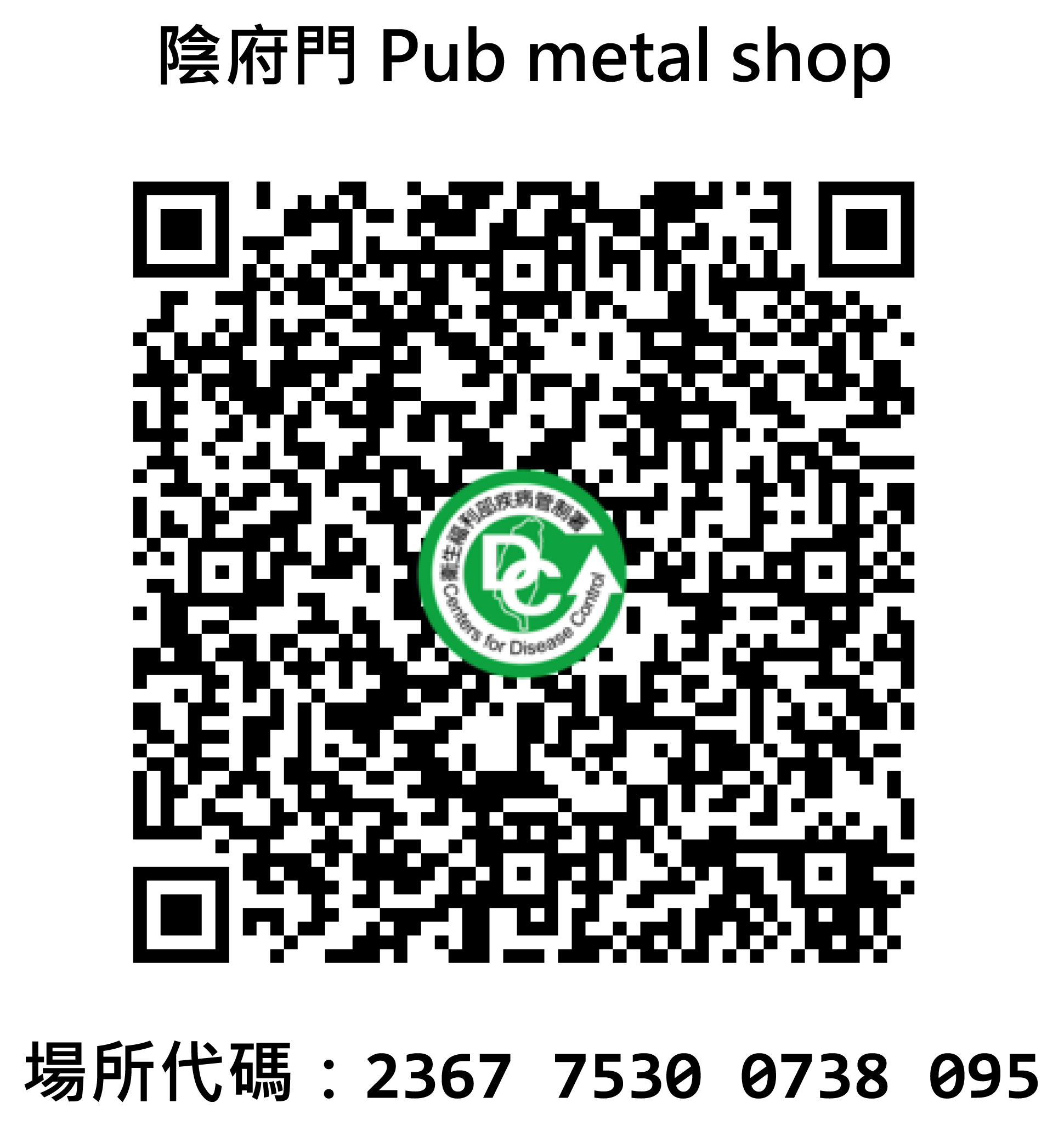 <English Below>
武漢病毒嚴峻,配合政府防疫政策,我們有兩件事要宣導 :

1.門市
即日起 :
❗實名制 + 手部消毒 + 全程帶口罩❗
❗店內同時間限制人數:5人❗ (雖然從沒有過)
*本店實名制QR CODE(如圖) 是政府開發出的簡訊實聯制系統,迅速免個資。
2.官網 www.pubmetalshop.com
❗即日起至6/28 消費滿$500元免運費❗ (不包括預購商品)
*物流限郵寄及台灣本島 / 先付款 (請選對付款方式!如果你選超商取貨付款是沒有免運的)
免運步驟:
1.check out ➡️ 2.Select delivery method請選擇《Shipping》➡️ 3.按continue ➡️ 4.請選擇一種付款方式並完成付款。

最後,這段時間我們是希望各位金屬頭多多利用官網購物,盡量不要來門市,保護自己也保護我們唯一的員工。一起守護台灣,一起守護陰府門!

===================================
Due to the severity of Wuhan virus (a.k.a COVID-19) in Taiwan.We will abide by Taiwan government's anti-epidemic policy. We have two things to announce:

1. Physical shop
❗ Scan the QR CODE,Open the link ,and send the message to 1922.No need to enter any personal information and SMS fee is free.
❗ Hand disinfection
❗ Wear a mask during at our shop
❗ Maximum 5 peoples at the same time in shop (although never before)
*If you don't agree with the rules, please NO ENTRY OUR SHOP, but you can make the purchase from our online shop www.pubmetalshop.com .

2.Online Shop www.pubmetalshop.com
❗ Free shipping over $500 TWD (Taiwan Domestic Only) from now until 6/28 (Not include Pre-order item)
❗ Ship for Taiwan post only / Pay first (Please choose the correct option , If you choose a cash on delivery 7-11 or FamilyMart , there is no free shipping for it )

Step for Free shipping:
1.check out ➡️ 2.Select delivery method choose《Shipping》➡️ 3. Click 《continue》 ➡️ 4.Choose one payment option and pay it.

At this time, try to make the purchase on our official website, and don't come to the physical store,to protect yourself and protect our only owner and crew. Guard Taiwan together !
Stay healthy and safe!