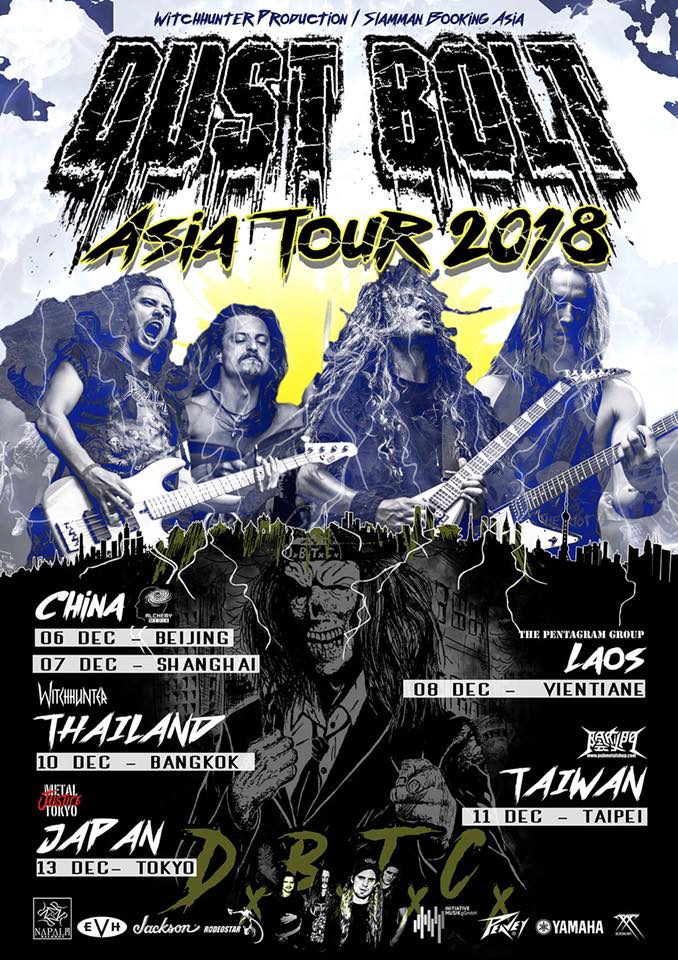 德國新生代鞭金Dust Bolt首次來臺 @ 鞭擊大屠殺 - 六
Dust Bolt (DE)
德國新生代鞭金Dust Bolt樂團最初名為The last,2006年在德國巴伐利亞城鎮成立,他們還都是學生並且玩一些龐克歌曲。不久之後就改名為Dust Bolt,四位團員平均年齡25歲,並開始在當地大大小小的活動演出,很快的就引起了人們的關注,並與Sepultura,Hypocrisy或Napalm Death等知名樂團同台的演出。

2010年,首次以Dust Bolt團名獨立發行卡帶DEMO "Chaos Possession",受到德國金屬雜誌權威Metal Hammer的好評,被稱為金屬樂的最佳新團,DEMO "Chaos Possession"為當月的推薦名單。之後演出的數量立即增加,樂團很快從當地金屬場景到了國際水平,2011年代表德國參與一年一度的國際金屬盛事Wacken Metal Battle。

Dust Bolt從2012年的第一張專輯"Violent Demolition"就被奧地利知名金屬廠牌
Napalm Records簽下。首次亮相取得了重大成功,迄今為止全球售出超過5000張,在德國與國際上被稱為鞭擊金屬的頂級新秀,這也是因為他們非凡的現場表演的成果。在過去曾與知名樂團一同巡迴,如與Obituary, Sepultura, Dr. Living Dead!, Heathen, Exodus, Insanity Alert ..等樂團在歐洲巡演,還有與Obituary, Exodus ,Power Trip在北美洲的巡演。2013年在Metal Hammer Awards(金神獎)被提名為"2012年最佳專輯"與"最佳新人"。隨後是他們2014年的"Awake The Riot"和2016年的"Mass Confusion"。

Dust Bolt以其暴動和激烈的現場表演而聞名,他們的DIY、哈扣態度影響與老派Thrash Metal的結合描述了他們整體的聲音。老式鞭金攻擊是他們音樂的主要基礎,突出的灣區鞭躁狂節奏所引發的緊張,波濤洶湧的中速節奏和完全炙手可熱的全油門捶落去。

Dust Bolt表示這是他們首次亞洲破處巡迴秀,也將是他們休息之前的最後一場特別演出,之後將準備在2019年正式推出他們的新專輯!

台灣金屬頭。鞭。起。來。\m/
DUST BOLT is a Thrash Metal band formed in 2007 in Bavarian small town Landsberg in Germany.

The four young musicians (age in average 25) are nearly ten years active as a band, as they started playing together as teenagers and quickly gained people´s attention. Through the steps every rock band has to go and through thousands of dumps and dirty venues, the four kids made their name known from local scenes to an international level early. The band is known for their impulsive and aggressive live shows, such as their DIY attitude and hardcore influences combined with old school Thrash Metal - which describes their overall sound.

DUST BOLT released their first demo tape "Chaos Possession" in 2010, followed up by their debut Violent Demolition in 2012, Awake The Riot in 2014 and Mass Confusion in 2016. A new album is predicted for 2018. In the past the band toured along with Obituary, Sepultura, Dr. Living Dead!, Heathen, Exodus, Insanity Alert and many more in Europe and has also been part of the Battle of the Bays US Tour together with Obituary, Exodus and Power Trip. The band announced to come back to the United States with the new album in 2018 and also to tour other countries and continents they haven´t been before. Dust Bolt is currently signed to Napalm Records.
Local support : Greedy Black Hole 、 Hateful Rezpect

日期 : 12月11日(二)
地點 : Revolver Bar (台北市中正區羅斯福路一段1-2號 )
時間 : 19:45入場 / 20:00開始
票價 : 預售$1200 / 現場$1500 (限量100張,手寫編號,預售如賣完不在追加)
網路購票: 點此網路購票
-付款後,當日現場以訂購人姓名與電話核對取票
-付款方式接受信用卡、網路ATM、ATM櫃員機與超商條碼(7-11、全家、萊爾富、OK)
-使用超商條碼付款方式需負擔手續費$15元/筆
-此線上預售票於12月5日23:59:00截止 (超過此日期請至陰府門門市購買)
-使用手機購買,請把瀏覽器切換成桌機電腦版本

實體購票: 陰府門門市
主辦單位: 陰府門Pub Metal Shop
Date : 12月11日(二)
Venue : Revolver Bar
Show Time : 20:00
Price : PreSale $1200 NT / at Door $1500 NT (Limited to 100 pieces with hand
numbered)
Buy ticket:1.Online > Click here to buy oneline or
2.Physical Store > Pub Metal Shop
Only Buy online , Your ticket order confirmation details are below :
Tickets will NOT be shipped. Please pick up your ticket at the venue on the day.
Please bring followings ( [Order Confirmation Mail],Telefone number or Things identify you (Passport, Alien registration card, Drivers license, etc)) to [Ticket Counter] at the venue on the day. You can obtain ticket from doors open.
Payment accept credit card,ATM and supermarket bar code (7-11, FamilyMart, Hi-Life, OK mart)
Payment fee of supermarket bar code is TWD $15 / per each order
Cut off day : 2018/12/5 23:59:00 (12/6~12/10 Pre-sale ticket only will get from Pub Metal Shop)
If use your mobile phone to buy, please switch your browser to the desktop computer version

Production: Pub Metal Shop